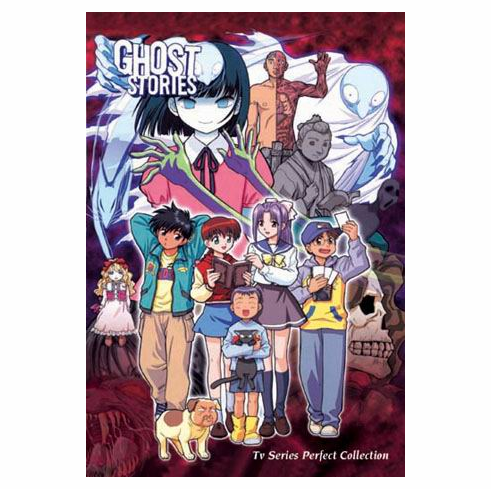 Ghost Stories ~ Tv Series Perfect Collection
Ghost Stories ~ Tv Series Perfect Collection
Item Code : MA480E
Quantity : 3
Dialogue : English/Japanese
Subtitle : English/Off
Region : All
Region, Free Code
Disc Type : DVD5x3
Screen : 4:3
Audio : Ac3 2.0 Channel
Series Type : Tv Series
System : NTSC
Episodes : 1-20
Running Time : Approximately 20x25 mins//
Synopsis: Alternative title: Gakkou no Kaidan (Japanese) Ghost Stories in School Historias de Fantasmas (Spanish)

Age rating: Older Children (May contain mild bad language, bloodless violence)

Genres: Comedy, Horror, Mystery, Supernatural

Director: Noriyuki Abe Music: Kaoru Wada Character Design: Masaya Onishi Art director: Shigenori Takada (Studio Waiesu) Color Coordination: Hideo Kamiya Director Of Digital Photography: Toshiyuki Fukushima Planning: Kenji Shimizu , Yuji Nunokawa

Plot Summary: Kids and ghosts. When young Satsuki finds an old book of spells from her passed away mother, she gains the power to fight ghosts that are haunting her new school. With the help of her friends, and of a really wicked devil cat, she must protect everyone around her or be haunted for ever more.